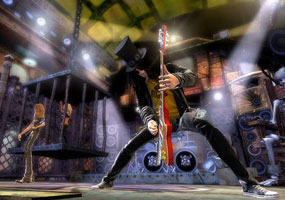 Pentolan Guns N' Roses, Axl Roses, tampaknya cukup geram dengan Guitar Hero III: Legends of Rock. Ia menuntut Activision selaku pembesut game tersebut senilai USD 20 juta (sekitar Rp 180 miliar) karena menampilkan Slash dalam hits Welcome to the Jungle.
Rose menganggap kehadiran mantan gitaris Guns N' Roses telah menyalahi kesepakatan bersama. Dalam laporan yang dilansir The Hollywood reporter menyebutkan bahwa isi perjanjian yang dimaksud sama sekali tak menyinggung untuk menampilkan sang mantan gitaris Guns N' Roses tersebut, ataupun salah satu personel Velvet Revolver yang kini digawangi oleh Slash.
"Activision tidak hanya melakukan pelanggaran dengan menampilkan sosok Slash (band Velver Revolver) dalam Guitar Hero III, tapi game tersebut juga terbukti coba mempromosikan diri dengan menonjolkan kedekatan Slash dalam lagu Welcome to the Jungle," isi gugatan yang dikutip detikINET dari Kotaku, Rabu (24/11/2010).
Sebelum kasus ini, Roses juga pernah melayangkan gugatan serupa kepada Activision karena menggunakan lagu Sweet Child O' Mine untuk mempromosikan game Guitar Hero III. Padahal dalam perjanjian yang disepakati lagu tersebut hanya digunakan unutk Guitar Hero II.
Guitar Hero III, merupakan salah satui game konsol yang paling laris di dunia. Sejak peluncurannya, game tersebut telah berhasil terjual senilai lebih dari USD 1 miliar, atau sekitar Rp 9 triliun.
sumber

- - - - - - - - - - - - - - - - - - - - - - - - - - - - - - - - - - - - - - - - - - - - - - - - - - -


---
Permissions in this forum:
You
cannot
reply to topics in this forum